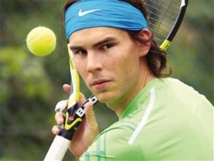 Officials said on Friday that the Spaniard had decided to pull out due to a hip problem.
Nadal posted an explanation on Facebook.
"Unfortunately, the injury I suffered in Acapulco before starting the tournament is in the same area as the one suffered in Melbourne," he wrote.
"It was very painful to retire from Acapulco, and it's very hard as well to not play in the USA. I will miss you and I will do everything that's possible to be back there in 2019."
Nadal originally had to quit the Australian Open quarter-finals due to an upper-leg injury and has not played on the ATP tour since.
He was unable to start at this week's Acapulco tournament as planned.
"We are disappointed that Rafa will not be able to compete for the title this year," said Indian Wells tournament director Tommy Haas.
"We wish him all the best for a speedy recovery and hope to see him back in action at the Indian Wells Tennis Garden next year."
With Nadal's withdrawal, Radu Albot moves into the main draw.