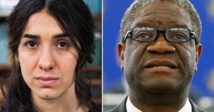 Murad, now aged 25, escaped and became an activist against genocide and human trafficking.
She was just 19 years old when the radical group swept through Sinjar in north-western Iraq in August 2014. Her mother, six of her nine brothers and about 10 other relatives were killed.
She and her two sisters were among thousands of Yezidi women captured and forced into sex slavery by Islamic State. Three months later, Murad escaped through an unlocked door of one of her enslavers.
Murad has testified about being repeatedly sold, gang-raped and brutalized while in captivity. She retells her ordeal and survival in her memoir "The Last Girl: My Story of Captivity, and My Fight Against the Islamic State," published last year.
Islamic State used sex slaves as prizes for its fighters and actively encouraged rape.
The Yezidi religious minority was particularly singled out for persecution, as the extremist group sees them as infidels. Men and older women were systematically murdered.
After escaping Iraq, Murad was taken to Germany for treatment. She quickly turned to activism, becoming a voice for Islamic State victims. Prior to the war, she had planned on being a teacher.
Murad said she received direct threats from Islamic State because of her activism. "I put my own life at risk, but I do not have a life without giving hope to other victims," Murad told US broadcaster NBC.
In September 2016, the United Nations appointed her as the Goodwill Ambassador for the Dignity of Survivors of Human Trafficking.
The following month, Murad shared with her fellow Yezidi Lamiya Aji Bashar, the Sakharov Prize for Freedom of Thought, the European Union's top rights award.
In August this year, Murad, now living in Germany, got engaged to Abid Shamdeen, a Yezidi rights activist, who also hails from Sinjar.
Announcing the news of their engagement, Murad said "the struggle for our people" brought them together.
Her fiancee, speaking to US radio broadcaster NPR in August, praised Murad as "courageous, smart and a fighter."