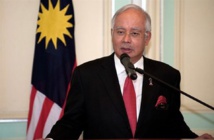 Muhammad Shafee Abdullah, Najib's main defence lawyer, pleaded not guilty to receiving 9.5 million ringgit (2.3 million dollars) and to making false declarations on his income taxes.
Shafee was charged with two counts of money laundering and two counts of avoiding taxes in a Kuala Lumpur court. He was arrested late Wednesday and his bail was set at 1 million ringgit.
Shafee said last week the payment was made for legal services he provided during the previous administration and said he was not aware of the source of the payment.
According to a charge sheet provided to the media on Thursday, Shafee allegedly received 4.3 million ringgit from Najib's personal bank account in September 2013 and another 5.2 million ringgit in February 2014.
1Malaysia Development Berhad, the 1MDB state fund, is the subject of a sweeping international investigation conducted by at least six countries - including Singapore, the United States and Switzerland - over alleged money laundering and graft by high-level officials.
Najib, who served as Malaysia's prime minister from 2009 until May this year, is a key figure in the investigation.
Najib is accused of misappropriating some 4.5 billion dollars from 1MDB, including nearly 700 million dollars that were allegedly transferred into his personal bank account.