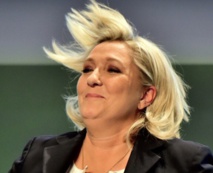 Jean-Marie Le Pen, 89, on Wednesday published the first volume of his memoirs.
And although they cover the period before the foundation of the party in 1972, he found space for a few asides directed at his daughter.
"One sentiment prevails when I think of her: pity," the elder Le Pen wrote, before lacing into her strategy of "de-demonization" aimed at making the National Front acceptable to a wider range of voters.
"She bowed to the moral and political demands of the enemy and that lost her the only stronghold that she occupied," he asserted.
The National Front founder handed over leadership to his daughter in 2011, but four years later the party expelled him over his repeated comments downplaying the Holocaust.
The party has been in the doldrums since Marine Le Pen's loss to centrist Emmanuel Macron in last May's French presidential election.
Le Pen won a record 34 per cent of the vote, but her poor performance in a televised debate against Macron and disappointing parliamentary election results led to internal recriminations.