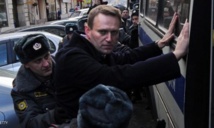 The demonstrations under the slogan "He is no tsar of ours!" were aimed at Putin's long time in power, as well as at rampant corruption and internet censorship in Russia.
Organizers said that demonstrators were arrested in several Siberian cities, including Barnaul and Krasnoyarsk. There were no incidents in other cities, like Vladivostok and Irkutsk, they said.
Russian media reported several hundred opposition supporters at each demonstration, which had originally been planned for 90 cities.
In Moscow and St Petersburg, where the authorities have banned any demonstrations, opposition supporters plan to go ahead with rallies at 2 pm (1100 GMT).
Russian authorities had earlier tried to prevent the demonstrations by making arrests in several cities and raiding the offices of Navalny's organization.
Anti-corruption activist Navalny was shut out of the March presidential election in which Putin secured 77 per cent of the vote for his fourth term as president. Putin has now been in power as president or prime minister for nearly two decades.
Putin is due to be sworn in for his latest six-year term in office on Monday in Moscow.