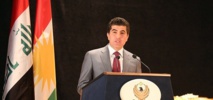 Barzani, of the Kurdistan Democratic Party (KDP), got 68 votes out of the 81 lawmakers who attended the session. He was up against four other candidates.
He was a staunch supporter of the region's 2017 independence referendum, but has since sought to improve relations with the central government in Baghdad, which opposed the plebiscite.
The KDP is led by Nechirvan Barzani's uncle, Masoud Barzani, who stepped down as president of Kurdistan following the botched independence bid.
The Patriotic Union of Kurdistan (PUK), the region's second-biggest party, boycotted Tuesday's session.
Kurdistan has an estimated population of 5.2 million people.
The region became self-governing with the formation of the Kurdistan Regional Government in 1992. Iraq's 2005 constitution recognizes Iraqi Kurdistan as an autonomous region.