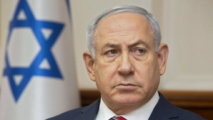 With 90 per cent of votes counted, the conservative Likud is set to win 36 mandates, against 32 for the centrist Blue and White alliance of main challenger Benny Gantz, Israel's ynet news reported Tuesday.
This result would hand Netanyahu a larger lead than any major surveys published ahead of Monday's election had predicted. Those surveys had forecast another tie or near-tie between the two rivals, which was the case after elections in April and September.
The partial vote count this time round indicates that Netanyahu's bloc is set to win a total of 59 seats in the 120-seat Knesset, two short of a majority, while Gantz's left-wing bloc is looking likely to take 54 seats.
A Likud spokesman said it was only a matter of days before there would be a government relying on the votes of four to six Knesset members who decide to switch sides, who "understand that there is no other government except under the leadership of the Likud and the prime minister."
Neither Gantz nor Netanyahu could form a coalition after elections in April and September, and with neither bloc coming away with a clear 61-seat majority after the latest election, there are fears that the unresolved, ongoing deadlock could lead to yet another election.
Avigdor Liberman told reporters on Tuesday that his ultra-nationalist, but secular, Yisrael Beiteinu party "would do everything to prevent fourth elections."
Yisrael Beiteinu party looks set to take seven seats, enough to give either bloc the majority it needs. However, Liberman has refused to sit with the ultra-Orthodox parties of Netanyahu's right-wing bloc.
Netanyahu called the results an "enormous victory" during a rally in Tel Aviv early on Tuesday, and appears to have improved his chances of a sealing a record fifth term in office.
His supporters - unfazed by formal charges of corruption against Israel's longest-serving premier - chanted and waved Israeli flags as Netanyahu called it "a victory against all odds."
Israeli political scientist Maoz Rosenthal of the Interdisciplinary Centre in Herzliya (IDC) said this was the "biggest victory for the Likud since 2003."
Netanyahu's corruption trial is due to start on March 17. He is charged with bribery, fraud and breach of trust for allegedly offering political favours in return for positive press coverage and helping out wealthy business contacts in return for expensive gifts. He has called the indictment an attempted "coup."
Israeli President Reuven Rivlin will likely grant the task of forming the next government to Netanyahu, because traditionally the president gives the mandate to the largest party - unless the Supreme Court rules that an indicted party leader is unfit to form a government.
The Movement for Quality Government, a Jerusalem-based NGO, filed a petition to the Supreme Court on Tuesday asking it to rule that Netanyahu should not be allowed to form a government due to his indictment.
Netanyahu "cannot function. He is going to be two, three days every week in court," a legal advisor for the group said, arguing that the unprecedented situation of a sitting prime minister under trial created a conflict of interests.
Gantz expressed disappointment and accused political opponents of spreading targeted lies about him and spoke of the dirtiest election campaign in Israel's history.
A top aide to Palestinian President Mahmoud Abbas on Tuesday decried Netanyahu's projected success.
Annexation of parts of the occupied West Bank, as per US President Donald Trump's Middle East plan announced in January, would be the next step, Palestine Liberation Organization (PLO) Secretary General Saeb Erekat said. "Settlement, annexation and apartheid have won," Erekat said in a statement.
The Joint List of Arab parties, the third largest faction in the Knesset, according to the partial results, stands at 15 mandates, an unprecedented achievement, but Arab lawmakers traditionally do not join any "Zionist" coalition as that would mean "collaboration" with the Israeli occupation of the West Bank and Gaza Strip.
Joint List head Ayman Odeh said that 15 mandates for Arab parties was a "historic achievement." The big failure in the election, he said, was Blue and White, because it was a pale imitation of the Likud, and voters clearly preferred the "original over the imitation."
Notepad