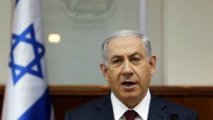 Israelis were heading to polling stations on Tuesday to vote in the country's general elections following
what some have described as the "ugliest-ever" election campaign
The emergence of popular former army chief Benny Gantz on the political scene, coupled with a string of corruption scandals, have presented Prime Minister Benjamin Netanyahu with his toughest challenge in years.
The tight race materialized after Gantz teamed up with lawmaker Yair Lapid to form the new centrist Blue and White party, which has had a slight edge in most polls over Netanyahu's right-wing Likud.
Despite the neck-and-neck race between the two leading parties, polls have shown that most Israelis believe Netanyahu will be the one to form the next coalition.
This is partly because the right-wing bloc of parties is expected to be larger in the Knesset than the centre-left bloc, possibly handing Netanyahu the mandate to retain the premiership.
Some 6.3 million people are eligible to vote for some 40 parties.
In recent weeks election campaigns have turned increasingly viscous, with the two main parties accusing each other of having crossed a red line.
Likud's campaign began with attacking its rival as the "weak left."
The campaign since pounced on reports that Gantz's phone was hacked by Iranians, alleging that it made him a target of Iranian blackmail. The Likud campaign then moved onto painting Gantz as mentally unstable.
For his part, Netanyahu said he is suing Blue and White leaders for libel after they accused him of profiting from the sale of German submarines to Israel and Egypt.
While much of the campaign discourse was devoid of substantial issues, several days before the elections Netanyahu vowed to annex Jewish settlements in the West Bank if re-elected. The move would be a break from decades of diplomatic policy but the statement was taken with a grain of salt in Israel, where it was seen as a bid to win over right-wing voters.
Gantz has spoken in favour of a peace agreement while maintaining Jerusalem as Israel's capital and retaining the settlement blocs.
Netanyahu's image as "Mr Security" has been threatened by the rise of the Blue and White party, which stars three former army chiefs and touts 117 years of combined military experience.
Blue and White presents itself as the clean, corruption-free party.
The attorney general's announcement that he intends to indict Netanyahu for bribery, fraud and breach of trust - pending a hearing - did initially dent Netanyahu in the polls, but he quickly bounced back.
Netanyahu has denied all accusations against him and accused police, media and his opponents of a witch hunt.