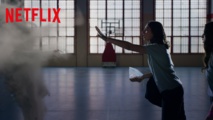 Netflix's market capitalization now surpasses Disney - which recently entered the streaming market itself in a much touted launch - and that of energy giant ExxonMobil.
The streaming company is among the limited number of big-cap companies that have gained massively during the health crisis, along with firms like online retailer Amazon, and Walmart, the US supermarket chain.
The pandemic has undone some negative investor sentiment, over previous worries about potentially slowing subscription rates in major markets and cash-flow issues.
The number of new subscribers is expected to come in above previous expectations, because of the coronavirus.
Big investment houses have placed Netflix on their buy-list and raised price targets.
The company, along with much of the entertainment industry, has halted production on major new projects, such as its native television shows, which should help save it money. The flip-side concern is that a shortage could lead to viewers losing interest.
Unlike some of its competitors, Netflix is not hampered by other assets that are weighing it down during the pandemic. For example, Disney is taking big hits at its theme parks, which are closed.
Disney's decision to cut tens of thousands of workers at its parks has also exposed the company to criticism and negative sentiments.