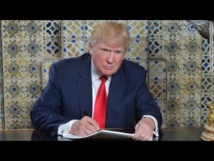 "The Trump administration has conceded that its original Muslim ban was indefensible. Unfortunately, it has replaced it with a scaled-back version that shares the same fatal flaws," said Omar Jadwat, director of the American Civil Liberties Union's Immigrant Rights Project.
"The only way to actually fix the Muslim ban is not to have a Muslim ban," Jadwat said in a statement.
"Instead, President Trump has recommitted himself to religious discrimination, and he can expect continued disapproval from both the courts and the people."
The New York Immigration Coalition called the revised ban, which halts new visas for people from six majority-Muslim countries, "a mask for the same old hatred, fear and incompetence."
"This is just one more example of the president's concerted effort to divide this country and instill panic and fear in immigrant, refugee and Muslim communities," said NYIC director Steven Choi.
Human Rights Watch said the changes to the original January 27 order, which fell afoul of the US constitution because it appeared to overtly target Muslims, "are merely cosmetic."
"President Trump still seems to believe you can determine who's a terrorist by knowing which country a man, woman or child is from," said the group's US immigration researcher Grace Meng.
Rabbi Jack Moline, president of the Interfaith Alliance, said they expect as well to battle the revised order in court.
"Even in its slightly revised form, President Trump's Muslim ban violates constitutional principles and undermines America's standing in the world," Moline said.
"We must be clear that discriminating against millions of people on the basis of their religion does nothing to make Americans safer."
The United Farm Workers of America, a union fighting a separate Trump effort to expel millions of mostly Latino undocumented immigrants, branded the new travel ban "a grievous affront to the fundamental values that make America an exceptional nation."