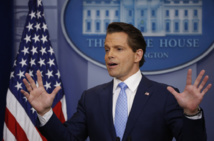 Anthony Scaramucci was tapped by US President Donald Trump on Friday to head his communications office, a position vacant since May.
Scaramucci said on Twitter he aimed for "full disclosure" by announcing he deleted the tweets.
"Past views evolved & shouldn't be a distraction. I serve @POTUS agenda & that's all that matters," he said.
Among those deleted by Scaramucci were tweets expressing his support for Hillary Clinton, Trump's opponent in the 2016 US election, and his opposition to Trump's plan to build a wall on the US-Mexico border, news reports said.
One of several tweets Trump sent on Saturday referred to Scaramucci's previous support for other candidates involved in the Republican Party presidential primaries.
"In all fairness to Anthony Scaramucci, he wanted to endorse me 1st, before the Republican Primaries started, but didn't think I was running!" Trump wrote.
News of Scaramucci's appointment was accompanied by the resignation of White House press secretary Sean Spicer, who appeared on Fox News on Friday night.
He said he had not thought about leaving before announcing his resignation, but said he knew it was the right thing to do.
"I think I have a pretty good compass," he added.
Spicer said the way he was mocked in late-night comedy skits sometimes made him laugh, but said there were a lot of times when it "went from funny to mean."