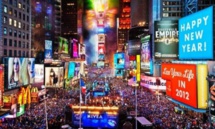 City officials said there was no credible threats directed toward the event, but they still planned to deploy thousands of officers, including some armed with long guns.
They also will position cement barriers and blocker vehicles on the streets surrounding Times Square, and will use surveillance cameras, canine units and for the first time drones flying overhead equipped with cameras and infrared sensors.
"People will be safe on Monday and they should feel safe too because the NYPD and our law enforcement partners are prepared," New York City Police Commissioner James P O'Neill said Friday at a briefing. "It is going to be one of the most well-policed best protected events at one of the safest venues in the entire world."
Street closures will begin at 4 am (0900 GMT) on Monday, and people will be allowed to enter through checkpoints beginning at 11 am. Officials said backpacks, coolers, lawn chairs or alcohol are among the prohibited items.
They said even though it could rain umbrellas also will not be allowed.
Mayor Bill de Blasio said all the preparation indicates New York City will experience another safe New Year's Eve celebration.
"New Year's Eve is one of the greatest moments of the year for New York City," de Blasio said. "It's a night when we shine all over the nation, all over the globe."