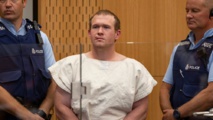 The Christchurch High Court confirmed on Wednesday that standby counsel would instead make a brief submisson on behalf of Brenton Tarrant, 29.
The Australian citizen pleaded guilty in March to 51 charges of murder, 40 of attempted murder and one charge of terrorism.
Earlier on Wednesday, the third day of the sentencing hearing, the actions of a man who ran towards Tarrant during the attacks were acknowledged in the Court.
Abdul Aziz Wahabzadah was at the Linwood Islamic Centre when Tarrant arrived and began firing at worshippers, the court heard.
He ran at the gunman twice during the attacks, at one point throwing a discarded gun at his vehicle, court documents said.
"I saw the fear in his [Tarrant's] eyes as he was running for his life [from me]," Wahabzadah told the court.
"You should thank Allah I didn't catch you that day," he told Tarrant.
Justice Cameron Mander stopped Wahabzadah as he left the courtroom after reading his statement.
"I have seen the video, I want to acknowledge your courage," Mander said to applause from other survivors present in court.
The widow of the 51st victim of the shootings was one of the last to address the court on Wednesday.
Hamimah Tuyan elicited a smirk from Tarrant when she said she missed the "lame dad jokes" of her husband Zekeriya Tuyan.
He died on May 2, 48 days after he was shot at the Al Noor mosque.
She urged Mander to impose the strictest sentence possible on Tarrant.
"He deserves a life of imprisonment until his last gasp, his last breath," she said.
She walked out of the court to applause from other survivors present.
More than 80 survivors and their family members have addressed the court over the three days.
On Thursday the Crown is expected to make its submissions on the sentence to be handed down.
Tarrant could be the first person in New Zealand to be sentenced to life in jail without any possibility of release.