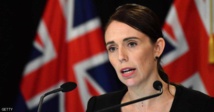 "I could not fathom how weapons that could cause such destruction and large-scale death could have been obtained legally in this country," Ardern said.
She said she made the decision to change the gun laws after the briefing, knowing that the parliament would be with her.
"We are here just 26 days after the most devastating terrorist attacks created the darkest of days in New Zealand's history," she added. "We are here as an almost entirely united parliament."
The bill passed with 119 to 1 votes, with just the sole parliamentarian of the libertarian ACT Party voting against it.
The law will likely to go into effect on Friday, when the governor-general is expected to sign it.
Owners of the soon-to-be-illegal weapons including military-style semi-automatics (MSSAa), assault rifles and several modification parts as well as their corresponding magazines and ammunition will have until the end of September to hand them over to police.
The government is still finalizing the legal framework of a gun buyback scheme which is estimated to cost in excess of 200 million New Zealand dollars (136 million US dollars).
A second batch of gun law changes due later this year will address questions around a gun register, the licensing regime and the system of police vetting amongst other matters.
Notepad