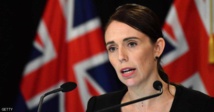 The first batch of changes to the county's gun laws will come into effect by April 12, less than four weeks after a suspected white supremacist opened fire on worshippers in two mosques in Christchurch on March 15, killing 50 and injuring 48.
"Every semi-automatic weapon used in the terrorist attack will be banned," Police Minister Stuart Nash said in a statement. "Too many people have legal access to semi-automatic firearms which are capable of causing significant harm."
Owners of the soon-to-be-illegal weapons including military-style semi-automatics (MSSAa), assault rifles and several modification parts as well as magazines and ammunition will have until the end of September to hand them over to police.
After the amnesty, strict new laws will ban the import and ownership of the firearms.
"The attack exposed considerable weaknesses in our laws," Nash said. "The firearms, magazines and parts used by the terrorist were purchased lawfully and modified into ... MSSAs due to legal loopholes."
The government was working on a buyback scheme which is estimated to cost between 100 million and 200 million New Zealand dollars (68 to 136 million US dollars).
Around 200 firearms have already been handed over since Prime Minister Jacinda Ardern announced the new ban days after the attack.
"The men, women and children who died and suffered injuries at the mosques now have their own legacy," Nash said.
Notepad