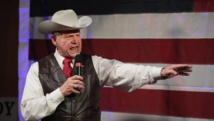 Roy Moore
At a press conference with celebrity attorney Gloria Allred in New York, Nelson described Moore offering to give her a ride home when she was 16 years old and then attacking her in his car, groping her and grabbing her neck and forcing it toward his crotch. The attack left bruises on her neck, she said.
"Mr Moore attacked me when I was a child. I did nothing to deserve this sexual attack," she said, noting she had come forward in the wake of other allegations against Moore.
She recounted Moore regularly flirting with her and touching her long, red hair during hours working at the restaurant, but said she had not read anything into his flirtations.
When he offered to take her home, she said she trusted him because of his prominent position within the community and believed he was simply doing her a favour. He told her that no one would believe her if she shared what had happened to her.
Nelson dismissed possible characterizations of her revelations as politically motivated, noting she and her husband had voted for President Donald Trump.
"This has nothing to do with the Republicans or the Democrats," she said. "It has everything to do with Mr Moore's sexual assault when I was a teenager."
The allegations prompted the top Republican in the US Senate to call Monday for Moore to step aside.
"I believe the women, yes," Senate Majority Leader Mitch McConnell said in calling on Moore to drop out of a special election next month to fill the seat formerly held by Attorney General Jeff Sessions.
McConnell said the party was looking at the possibility of fielding another candidate to stage a write-in campaign because it was too late to change the ballot one month ahead of the December 12 vote.
Moore had already been at odds with McConnell, who had backed his opponent, Senator Luther Strange, during the Republican primary earlier this year. The party had earlier voiced concerns about Moore in part because as a state judge he had been suspended multiple times for refusing to uphold the law.
Moore has repeatedly denied any sexual misconduct and responded to McConnell's remarks by saying that the party leader was the one who should step aside.
"The person who should step aside is @SenateMajLdr Mitch McConnell. He has failed conservatives and must be replaced. #DrainTheSwamp," he wrote on Twitter, referencing past calls by Trump to oust long-time politicians.
The Washington Post reported allegations last week that Moore had sexually abused a 14-year-old girl in 1979. Moore has denied the claim. The article also cited three additional women who said they were teenagers when Moore pursued them around the same time, when he was in his early 30s.