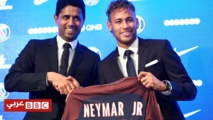 As fans chanted his name, Neymar said he was there "to work, to win your trophies."
"Paris is magic," he added ahead of the match against Amiens.
Neymar, transferred from Barcelona on Thursday for a record-breaking 222-million-euro (263-million-euro) fee, was not due to line out for Paris Saint-Germain.
According to French media, the French league had not received the necessary paperwork in time from Spain, where he had been signed to Barcelona.
After an introduction on the podium from club officials, the 25-year-old star walked around the ground, stopping occasionally to shake hands with fans in the front row and kicking footballs into the stands.
After he completed his circuit, he suddenly ran back to the north-eastern Auteuil Stand where hardcore fans were waving huge flags in the club's blue and red colours, stripped off his new number 10 jersey, and threw it into the crowd.
With Neymar's signing, PSG's Qatari businessman boss Nasser Al-Khelaifi will be hoping to regain the French championship, which the club lost to Monaco last season after a four-year winning streak.
But he will also be setting his sights on the Champions League, which the Parisians have never won.
Notepad