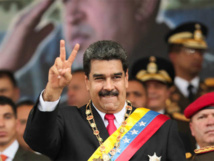 Six years after Maduro succeeded Chavez in April 2013, the South American country with the world's largest proven oil reserves is in the grip of an annual inflation of more than 1 million per cent.
Dozens of people have been killed in anti-government protests. The 56-year-old president nevertheless defied the international community by seeking a new term in elections widely regarded as undemocratic.
In the April 2013 elections that were held five weeks after Chavez died, Maduro scraped in with almost 51 per cent of the vote to the 49 per cent of his rival, unified opposition candidate Henrique Capriles.
The close result confirmed that the former trade union leader lacked his mentor's charisma and electoral clout, and hinted at a challenge in keeping the public behind him as he pursued Chavez's socialist "Bolivarian revolution."
Before Chavez's death, Maduro had already stirred international controversy with his views, suggesting that the late president could have deliberately been given cancer.
He also raised eyebrows when he said Chavez had appeared to him after his death in the form of a "little bird," and that the late president must have put in a good word from the afterlife for Argentinian cardinal Jorge Bergoglio, now Pope Francis, to be elected head of the Catholic Church.
Maduro earned Chavez's trust by emerging as the president's inseparable ally during the early stages of his cancer, as he underwent surgery in Havana in 2011 and 2012. Maduro was foreign minister at the time.
Maduro barely completed his secondary schooling and worked as a bus driver in Caracas. He later became a trade union delegate in the public transport system before being elected a national legislator and rising to the position of National Assembly speaker.
He had risen to political prominence as union leader during the 1992 street protests when he demanded the release of Chavez, who had been jailed for leading a failed coup attempt against then president Carlos Andres Perez.
Maduro was foreign minister for more than six years, and Chavez appointed him vice president in 2012.
As foreign minister, he is seen as having played a key role in deals with Russia, China and Iran.
Maduro has often sought to boost his political stature by highlighting his ties with Chavez, but that has failed to stop him from being portrayed as an incapable and authoritarian ruler.
The creation of a Constituent Assembly in July 2017 sparked accusations that Maduro was trying to override the opposition-dominated National Assembly. Some opposition leaders went into exile while others were barred from participating in political life.
Maduro meanwhile tried to contain the accelerating economic crisis with measures smacking of desperation, such as an announcement that Venezuela will lop five zeros off its almost worthless currency, and the creation of a cryptocurrency backed by the country's oil reserves.
But as the United States, European Union and Latin American countries have stepped up pressure on him, Maduro has become increasingly obsessed with the idea that the US and neighbouring Colombia are preparing a coup against him.
He has claimed that mercenaries are being trained in Colombia, an allegation Bogota has denied.
The question on everyone's lips is, whether Maduro will be able to serve until the end of his second six-year term.