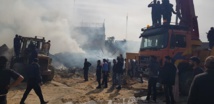 The Health Ministry in Gaza said three women were among the dead.
It added that 14 people were in serious condition. Ambulance and emergency crews are still on site, the ministry said.
The incident happened at the al-Banna Bakery in the Nuseirat refugee camp in central Gaza, according to hospital officials.
Police said that initial investigations showed that gas cylinders had exploded.
Gaza, which is ruled by the Islamist Hamas movement, has been under a strict blockade imposed by Israel and supported by Egypt for more than a decade.
Some 2 million people live in harsh conditions in the coastal enclave. There is a shortage of drinking water and electricity, among other things.