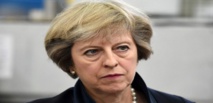 "We met today @DominicRaab and UK negotiating team. Despite intense efforts, some key issues are still open, including the backstop for IE/NI [the Republic of Ireland/Northern Ireland] to avoid a hard border," Barnier tweeted after the meeting.
Barnier said he would debrief the other 27 EU members and the European Parliament on the Brexit negotiations.
Raab had travelled to Brussels for the urgent meeting amid reports that Prime Minister Theresa May was close to agreeing to a Brexit "backstop" for the border to keep Britain in a "temporary" but potentially indefinite customs union with the EU, ahead of a crucial summit of EU leaders from Wednesday.
Ahead of Sunday's meeting, the British government said Raab wanted to resolve "big issues" remaining between the two sides.
The Guardian quoted an unidentified EU diplomat as saying Raab's team had sought a "concession" but believed "they don't have enough" following the talks.
The key sticking point was Britain's demand for a time limit for the backstop, which Brussels continued to resist, the newspaper said.
A scheduled meeting of officials on Monday afternoon "to sign off on any deal" had been cancelled, it added.
May is facing growing pressure to change her Brexit plan from eurosceptics in her Conservative party and from Northern Ireland's Democratic Unionist Party (DUP), whose 10 lawmakers support her minority government on key votes in parliament.
Raab's predecessor, David Davis, who resigned in July to oppose May's "Chequers" plan for Brexit, led the way with a call for her cabinet to reject the plan.
"The government's strategy has three fundamental flaws, all of which are surfacing as we approach the endgame," Davis wrote in The Sunday Times, ahead of an expected cabinet meeting on Tuesday.
He said May had made "an unwise decision in December to accept the EU's language on dealing with the Northern Ireland border."
Influential Conservative lawmaker Steve Baker, deputy chair of the party's European Research Group of some 60 lawmakers, tweeted that Davis had written a "great article."
Conservative eurosceptic lawmaker Nadine Dorries agreed that Davis' intervention was "significant."
"His position has always been, change the policy, not the PM," Dorries tweeted. "Getting May out and him becoming an interim leader may be the only way to deliver Brexit and FTA [a free-trade agreement]."
The Sunday Times said up to 44 lawmakers had sent letters demanding a confidence vote in May to the Conservatives' influential 1922 Committee, which must trigger a leadership contest if at least 48 lawmakers request one.
The Observer, The Guardian's Sunday newspaper, quoted leaked government emails as saying DUP leader Arlene Foster, who held talks with EU officials last week, was "ready for a no-deal scenario, which she now believed was the likeliest one."
British officials said Foster had called her meeting with Barnier "hostile and difficult," the newspaper reported.
Notepad