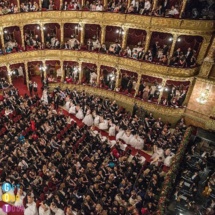 Six months after the leading opera stage had to close because of Covid-19, the start of the new season comes with a pandemic etiquette that includes mandatory face masks before and after the performance, as well as the recommendation to leave it on even during the show.
"Please express your enthusiasm exclusively by clapping as loudly as possible," instead of cheering or booing, the Vienna State Opera asks guests in its guidelines that are meant to reduce the exhalation of potentially infectious droplets or aerosols.
"There won't be a bravo police" to enforce this rule, the Vienna State Opera's new director, Bogdan Roscic, jokingly told a press conference ahead of the reopening.
However, there are a number of additional Covid-19 measures in place, including reducing the maximum seating capacity from around 2,300 to 1,300, as well as intensive virus testing among artists and staff that will cost 330,000 euros (390,000 dollars) in September alone.
Roscic, a former pop music radio manager and classical record label executive, is planning to quickly overhaul the Vienna State Opera's repertoire with 10 premieres this season.
The first one is a production of "Madama Butterfly" that directors Anthony Minghella and Carolyn Choa had originally staged for the English National Opera.