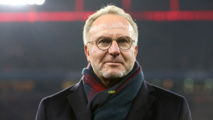 Salihamidzic told the club magazine Wednesday that "I will continue to do my tasks as before. We have to see what will happen in two or three years.
"It is an honour for me to be a board member now. From an operational perspective, nothing changes in my area of ​​responsibility with the new position."
The former Bayern player Salihamidzic, 43, was appointed sports director in 2017.
He joins a board where Karl-Heinz Rummenigge will step down as chairman next year, with ex-Bayern goalkeeper Oliver Kahn his designated successor. That will complete a transition at the top of Germany's wealthiest and most successful club.
"We will form a team for the next few years that must work incredibly well together to continue what Uli Hoeness, Karl-Heinz Rummenigge, Franz Beckenbauer and (former president) Karl Hopfner have built up in over four decades," said Salihamidzic.
Looking at Kahn and himself, he sees similarities, saying: "We are competitors, you can't get that out of us. We want to make history.
"Bayern have been a stable club for decades and the figurehead of German football. It has to stay that way."
Notepad