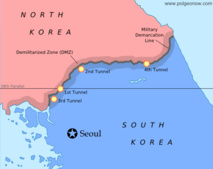 The Party Central Committee's policy council had decided on Wednesday to immediately supply food and funds for the city "to stabilize the living [conditions] of its citizens," state news agency KCNA reported.
During the party meeting chaired by Kim, organizational issues as well as epidemiological protective measures and the situation in Kaesong had been discussed, KCNA reported.
The gravity of the situation for the population of the city close to the border with South Korea remained unclear. Kaesong has some 300,000 inhabitants.
North Korea had put the city under complete lockdown at the end of July and imposed a state of emergency in the region, after an individual suspected of having Covid-19 illegally crossed the border from South Korea on July 19.
However, KCNA had reported that "several medical check-ups" produced an "uncertain result" and that the individual was put under strict quarantine in the border town of Kaesong as a first step.
Little is known about North Korea's true health situation.
The reclusive nation has so far not reported a single coronavirus case and Kim had praised the country's six months of anti-epidemic efforts as a "shining success" at a party meeting early in July.