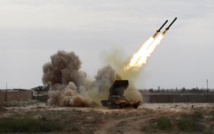 Pyongyang fired the projectiles - initially described by the Joint Chiefs of Staff (JCS) as "missiles" - from the east coast town of Wonsan between 9:06 am (0006 GMT) and 9:27 am, Yonhap news agency said.
The JCS said the missiles flew a distance of between 70 and 200 kilometres in the direction of the Sea of Japan, which Seoul refers to as the "East Sea."
"Our military has been closely watching North Korea's movements and has maintained a full-fledged posture in close coordination with the US," the JCS was quoted as saying.
The demonstration of its firepower by Pyongyang comes at a sensitive time for negotiations between North Korea and the US.
US President Donald Trump has been seeking to strike a denuclearization deal with North Korean leader Kim Jong Un. The pair have held two summits, but the talks appear to have stalled.
"We are aware of North Korea's actions tonight. We will continue to monitor as necessary," the White House said.