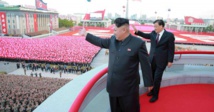 It was not initially broadcast on state-run television but images from the parade in Pyongyang were posted on Twitter, showing dozens of trucks carrying waving soldiers and other military vehicles rolling past cheering crowds.
A government source in Seoul told the news agency Yonhap it appeared to have begun at about 10.30 am (0200 GMT).
North Korea's decision to designate February 8 as armed forces day and hold a parade was only taken recently. It sparked concerns that it could dampen a reconciliatory mood created by North Korea's participation in the Olympics.
Foreign journalists were not invited to cover the parade, which was expected to mobilize about 50,000 people, including some 13,000 troops, Yonhap said.
Satellite images evaluated by the analyst website 38 North indicated that 13,000 soldiers and some 150 vehicles were practising in the North Korean capital ahead of the event.
Both the US and North Korea are sending high-ranking delegations to the Olympics, with Vice President Mike Pence leading the US team and North Korea sending ceremonial head of state Kim Yong Nam and Kim Yo Jung, sister of leader Kim Jong Un.
But North Korea on Thursday ruled out a meeting with the US contingent.
"We clearly state that we don't have a willingness to meet with the US side during our visit to South Korea," a senior Foreign Ministry official was quoted as saying by North Korean news agency KCNA.
Pence had earlier this week refused to rule out a meeting between the two sides. But on Wednesday he talked tough, saying Washington was preparing to roll out its "most aggressive" sanctions yet against Pyongyang.
"We will not allow North Korea propaganda to hijack the message and the imagery of the Olympic Games," he told reporters while on a pre-Games trip to Tokyo.
The Koreas have engaged in sports diplomacy since North Korean leader Kim Jong Un extended a rare olive branch to South Korea in a New Year's message. The missive followed years of tensions sparked by the North's nuclear and missile provocations.
North Korea's last big parade in April marked the 105th birthday of the late state's founder, Kim Il Sung.