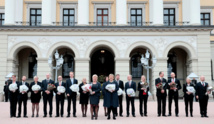 Guri Melby, a Liberal Party lawmaker, replaced Trine Skei Grande as minister of education and integration. She said it was a very special situation to take over, given that schools in Norway were closed Thursday as part of measures to prevent the spread of coronavirus.
Announcing her cabinet resignation on Wednesday, Grande also stepped down as Liberal Party leader. She has led the party since 2010. A week ago she was proposed for a new two-year term. The proposal drew criticism in some party factions.
In upcoming budget talks, Trade and Industry Minister Iselin Nybo was to represent the Liberals.
Solberg also named Odd Emil Ingebrigtsen from her Conservative Party as fisheries minister. His predecessor, appointed in January, stepped down a month ago in a row over severance payments.
King Harald chaired Friday's state council session where the cabinet changes were approved. In a first, the monarch used video conferencing since he and the queen have been placed under home isolation under new precautions introduced for persons returning from outside the Nordic region.
Neither King Harald and Queen Sonja, who last week paid a three-day state visit to Jordan, had any symptoms, the royal palace said.
The minority coalition comprises Solberg's Conservative Party, the Christian Democrats and the Liberals.
The reshuffle in January was triggered after the populist right-wing Progress Party pulled out of the coalition in a row about a suspected terrorist supporter repatriated from Syria.