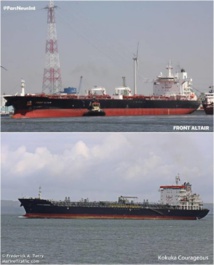 According to the agency's information, the crew was safely evacuated and no one was injured.
The tanker was reported to be on fire, the statement read.
In light of Thursday's incident and reports of sabotage attacks on oil tankers last month, Norwegian vessels in the region were urged to increase their alert levels and keep updated on developments, the maritime agency said.
While it was not clear what caused Thursday's blast, the agency advised vessels to avoid Iranian waters.
Also a Japanese company operating one of the two tankers says it has received a report that their tanker bound for Asia was attacked around the Strait of Hormuz.
Kokuka Sangyo president Yutaka Katada told reporters the company's tanker, the Kokuka Courageous, was involved in the incident but that nobody was injured.
All crew members, 21 of them, are Filipinos, the Japanese government says.