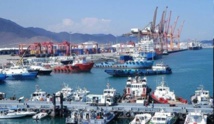 The Andrea Victory was "struck by an unknown object" on the water line near Fujairah on Sunday, the Thome Ship Management told dpa by phone.
"The master reported that the crew are all safe," a spokesman for the company said. "There is some damage to the vessel but it is stable."
Company officials plan to inspect the entire hull of the ship, while UAE authorities are also investigating the incident, he said.
Saudi Energy Minister Khalid al-Falih said earlier Monday that two Saudi Arabian oil tankers were significantly damaged in a "sabotage attack" in the same waters.