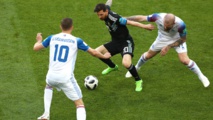 "Russia destroyed Saudi Arabia in a game of very low quality which could perhaps allow them to get out of the group stage. If this opening set the tone you should run away quickly," French sports daily L'Equipe said.
But in Russia, Sport Express screamed: "Give me Five. We love you," and the Kommersant daily celebrated a "fairytale start."
Austria's Die Presse called the game "a wild mess" while Germany's Frankfurter Allgemeine Zeitung labelled it "Much to Putin's liking."
The paper was referring to Russian President Vladimir Putin, who hopes to improve Russia's image through the tournament and at the same time needs the home team to excel.
Putin raised eyebrows with a lengthy speech in which he pledged openness, but unlike then Brazilian President Dilma Rousseff, who was jeered at the opener in Sao Paulo four years ago, he was received with a standing ovation.
Italy's Corriere della Sera observed that "the VIP section looked like a summit of sister parties of the Soviet Union than a window to the world" - with various heads of state from that region present but none at all from the western world.
"The opening risks becoming a project of wishful thinking. especially if Putin shows no signs of change, when the opposition has to stand trial and when civil society doesn't make itself heard," the Italian paper said.
Britain's The Guardian summed up the day by speaking of "a barnstorming victory after a brief but polished opening ceremony which even a rude gesture by Robbie Williams could not derail."
The singer had raised his middle finger at a TV camera while performing but it was not fully clear why he made the gesture.
Looking at the 15-minute ceremony before the game, Swiss paper Neue Zuercher Zeitung said "it was short enough not to torture the spectators."