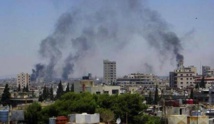 The team arrived in Damascus three days ago but was unable to enter the town, Douma, where Western powers have alleged the Syrian military unleashed a chemical attack on April 7 that killed numerous civilians.
The United States, Britain and France responded to alleged use of chemicals with strikes against three sites in Syria associated with the government's chemical weapons programme.
OPCW investigators have been escorted into Douma amid heavy security provided by Russian military police, a Syrian security source told dpa.
The delegation went straight to a hospital said to have treated victims of the chemical incident, the source said.
Syria and its main military ally, Russia, have expressed support for the OPCW investigation to confirm their denial of the incident.
France has alleged that the delegation was being prevented from entering the town so that evidence could be removed. Russian Foreign Ministry spokeswoman Maria Zakharova rejected that allegation and confirmed the arrival of the OPCW delegation.
The Russian military said meanwhile that it found a Syrian rebel laboratory for making chemical weapons in Douma. The lab contained chlorine and various ingredients for mustard gas, Russian chemical weapons specialist Alexander Rodionov said in comments carried by state media.
Russian President Vladimir Putin told German Chancellor Angela Merkel on Tuesday that the West's airstrikes in Syria "grossly violated the norms of international law, including the UN charter."
The West's attacks have significantly damaged the Syrian peace process, Putin told Merkel in a phone call, according to a Kremlin statement.
Speaking in Berlin after the phone call, Merkel said she anticipated a meeting with Putin "in the foreseeable future" to discuss the conflict in Syria and other issues.
French President Emmanuel Macron defended the strikes during an address to the European Parliament, saying the three countries had acted "for the honour of the international community."
OPCW director Ahmet Uzumcu has said the investigation could take a month. The delegation was due to conduct interviews with alleged victims and collect samples.
An activist who was in the area at the time of the alleged chemical attack said that most of the reported victims had left town.
Rebels, their families and other residents of Douma and nearby towns have been transferred to safer areas in northern Syria under a Russian-brokered deal.
Syrian and Russian forces took full control of Douma on Saturday.
The Syrian government agreed in 2013 to give up its chemical weapons in a Russian-brokered deal, after hundreds of people were killed in an alleged poison gas attack on a rebel-held suburb of Damascus.
There have since been repeated allegations of chemical attacks by the Syrian military, including an April 2017 sarin attack on the rebel-held town of Khan Sheikhoun.
Days after that attack, the US fired dozens of missiles at a Syrian state airbase in retaliation.