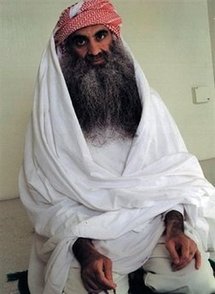 "We're going to go back into New York City, the scene of the tragedy on 9/11. We're now going to rip that wound wide open," Pete Hoekstra, ranking Republican on the House Armed Services Committee, told CBS news.
"And it's going to stay open for, what, two, three, four years as we go through the circus of a trial in New York City?" he added, reiterating concerns by families of the victims about trying suspects in a federal court where they would have the same constitutional rights as US citizens.
"To give them all of the extraordinary protections that you and I have as American citizens... people who have mocked the American system, who want to do everything that they can do to destroy it... yes, I think that's a bad decision," Hoekstra said.
The Republican lawmaker also questioned a plan being mulled by the administration to move some prisoners from the "war on terror" camp in Guantanamo Bay, Cuba, to jails in Illinois, Michigan or Colorado.
"What problem is the president going to solve by moving these trials to New York or by moving Gitmo prisoners to Michigan, to Illinois, to Colorado? He hasn't outlined what problem he's solving," he said.
"Why move them into the United States while we are still under the threat from radical jihadists?"
Former New York mayor Rudolph Giuliani lambasted the decision to hold a New York civilian court trial as an "unnecessary risk" to New York's security that would give the accused the unwarranted advantage of having civilian rights.
"It's an unnecessary advantage to give to the terrorists," Giuliani told CNN, citing the high security costs such a trial would involve. "It's an unnecessary risk to the city of New York, which already has any number of risks."
In a separate interview with Fox News Sunday, Giuliani said what the "Obama administration is telling us loud and clear is that both in substance and reality, the war on terror, from their point of view, is over."
Khalid Sheikh Mohammed "should be tried in a military tribunal. He is a war criminal. This was an act of war."
However Secretary of State Hillary Clinton defended the decision, saying it is "appropriate" they face justice there even though she admitted that the decision was fraught with difficulties.
Clinton said Attorney General Eric Holder's decision on Friday should be respected and would not have been made unless the authorities were absolutely sure New York could handle the security challenges posed by the trial.
"All believe that New York City not only can handle this, but that it is appropriate to go forward in the very area where these people launched this horrific attack against us," Clinton told "Meet the Press" on NBC news.
"I was a senator from New York, and I want to see them brought to justice. The most important thing for me is that they pay the ultimate price for what they did to us on 9/11.
"And if the attorney general and veteran prosecutors think this is the best way to achieve that outcome then I think that they should be given the right to move forward as they see appropriate," she said.
"Obviously, it's a very painful experience for families to have to go through," said Clinton. "That is something that you know, pains me.
"But we are a nation of laws. And we have two different venues for holding these people accountable -- the military commissions and our federal courts."
Top White House adviser David Axelrod insisted both the venue and the timing were appropriate.
"We believe that these folks should be tried in New York City, as you say, near where their heinous acts were conducted, in full view in our court system, which we believe in," he told CNN.
"And frankly it's been a long time in coming. A lot of these cases have been delayed for many, many years. And now, the people who suffered so much in that attack will get the justice they deserve."
--------------------------------------------------------------------------------------------------------------------------------
Image: AFP/HO/File.