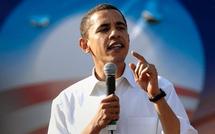 "I am not going to apologize again. I apologized to the president on Wednesday night," Wilson told Fox News. "People know my civility, they know that this was a one-time event and was out of frustration."
Leaders of the Democrat-led House have threatened to rebuke Wilson if he fails to issue a formal apology on the chamber floor, saying his outburst during Wednesday's keynote Obama speech on health care reform was a shocking breach of decorum.
A spokesman for House Speaker Nancy Pelosi said members of Congress would look to pursue a motion of disapproval -- a less harsh reprimand than a formal censure -- now that Wilson had made his position absolutely clear.
"Obviously what he said on Fox News was quite clear. Early in the coming week will be a leadership discussion and then there will be an announcement," spokesman Drew Hammill told AFP.
Obama, in an interview with CBS's "60 Minutes" program aired on Sunday, reiterated his acceptance of Wilson's apology and said pursuing further measures would be counter-productive.
"It just becomes a big circus instead of us focusing on health care," he said.
Wilson, a conservative who represents a district in the southern state of South Carolina, decried what he said were partisan efforts to change the topic of conversation away from the unpopularity of the president's health reform efforts.
"It's politics. This is exactly what the American people do not want to see, do not want to hear," he said. "As the White House advised, let's get to the issues."
Wilson's outburst came at a point in Obama's speech when the president declared that illegal immigrants would not be covered under his proposed health care reforms.
Despite his apology, Wilson has since insisted that he had some justification for his outburst. "I believe in the truth. What I heard was not true," he told Fox News.
Wilson conveyed his apology by telephone late Wednesday to White House Chief of Staff Rahm Emanuel.
His outburst has earned him financial support from likeminded constituents and supporters from around the country, according to CNN which reported Sunday that he has raised at least one million dollars in contributions since Wednesday.
The contributions came after Wilson directly asked in a Web video for campaign cash to fend off attacks from political opponents.
His top Democratic rival in the 2010 midterm, Rob Miller, has also seen a boost in donations, raking in a similar amount following the speech, CNN said.