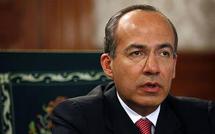 Calderon meanwhile challenged critics of his drugs war against vicious cartels to prove rights abuses by Mexico's armed forces went unpunished and won an endorsement of his military crackdown from his guests.
Obama reaffirmed the US position that ousted Honduran President Manuel Zelaya was his country's rightful leader, a day before a mediation mission by the Organization for American States (OAS) begins.
He also assailed those who fault his approach.
"The same critics who say the US has not intervened in Honduras are the same people who say we are always intervening and Yankees need to get out of Latin America," he said, accusing such opponents of "hypocrisy."
"You can't have it both ways," he told reporters after the summit in the Mexican city of Guadalajara, adding that Washington had done everything it could since Zelaya was ousted in a coup in June.
Harper rode to Obama's defense in the open-air press briefing after a summit in an ornate former orphanage.
"The United States is accused of meddling except when it's accused of not meddling," Harper said, praising the US "multilateral" role in efforts to reverse the coup and ease the Honduran crisis.
Critics in Washington and elsewhere have complained that US policy is directed at reinstalling Zelaya's left-wing government and brand the ousted leader a dictator who deserved to be toppled.
On the opposite flank, others have claimed Washington has watered down its calls for Zelaya's restoration.
The three leaders also took steps to bolster defenses against an expected resurgence of (A)H1N1 swine flu in the Northern Hemisphere flu season.
"We know that H1N1 will return in winter," said Calderon. "We three countries are preparing to confront this virus responsibly and minimize its impact for our people."
In a declaration, the leaders promised to share information and expertise about the disease, but warned border closures would not stop its spread and could aggravate economic and social consequences of the pandemic.
Most of the 1,008 world swine flu deaths have come in the WHO's America's region, encompassing North and South America and including Mexico and the United States, the countries where the virus first appeared.
The threat of drugs crime, moving from a bloody epicenter in Mexico to the criminal underworld of Canada and Mexico, also preoccupied the leaders, and Calderon rebuked critics of his tactics.
"In all cases, there's a scrupulous effort to protect human rights.
"Those who dispute that have to prove one case, a single case in which competent authorities have not responded to punish those legal authorities, police, soldiers or others," Calderon said.
Obama added: "I heartily complement President Calderon and his government for their determination and courage in taking on these cartels," adding that his host had pledged to respect human rights in the war on drugs.
Washington has pledged 1.4 billion dollars in aid to Mexico's battle against the cartels, but 100 million dollars of the money has been delayed over criticism of Mexico's record in Congress.
All three leaders, under pressure over job cuts in the economic crisis, sought common remedies ahead of the G20 summit in Pittsburgh next month.
"By working together, we will accelerate recovery and job creation, and build a strong base for long-term prosperity," they said in a joint statement. But despite the warm feelings, there was little sign of progress on disputes like the row on US curbs on access to Mexican trucks, and fears by both Mexico and Canada of protectionist sentiment stalking Congress.
In a separate declaration on climate change, the three leaders also promised "aggressive" action in the run-up to a UN conference on global warming later this year in Copenhagen, and vowed to embrace low carbon technologies.