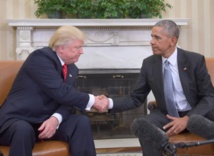 "When there is a vacuum in our democracy, when we don't vote, when we take our basic rights and freedoms for granted," Obama told students at the University of Illinois, "... then other voices fill the void. The politics of fear and resentment and entrenchment takes hold."
He warned that a backlash against progress was being manufactured by the "powerful and the privilaged" who want the country to be divided in order to preserve a status quo that favours themselves.
"It did not start with Donald Trump. He is a symptom, not the cause," Obama said.
He was critical of Trump over a host of issues, including the attacks on the press and the independence of the judiciary, nativism, resurgence of white nationalism, his cozy relationship with Russia and the withdrawal from the Paris climate accords.
He also criticized tax cuts that are causing the deficit to soar.
Obama then slammed the Republican Party for "bending over backwards to shield this behaviour from scrutiny or consequences."
The former president also took time to remind the crowd that the economic recovery from the great recession a decade ago began in his term, a shot at Trump who regularly claims credit.
"In two months we have the chance, if not the certainty, but the chance to restore some sanity to our politics," he said.
"Fortunately, I am hopeful, because out of this political darkness I have seen a great awakening of citizenship all across this country," he said, referring in part to a wave of new faces in his Democratic Party, especially women.
Trump later took to a stage in North Dakota and attacked Obama.
"I'm sorry I watched it, but I fell asleep," Trump said, referring to his predecessor's speech.