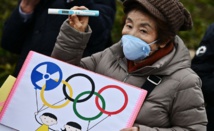 In an interview with the BBC published Thursday, Bach said Japanese Prime Minister Shinzo Abe said for the host nation 2021 was "the last option.
"Quite frankly, I have some understanding for this, because you cannot forever employ 3,000, or 5,000, people in an Organizing Committee," said Bach.
The Games were postponed by exactly a year as a result of the global coronavirus outbreak to July 23-August 8, 2021.
Along with massive financial costs, the delay threw the sporting calendar into chaos with many sports being forced to postpone their own world championships to accommodate the Games.
And from the IOC's point of view a further delay would eat into the build-up time for the 2022 Winter Games in Beijing and the 2024 summer Games in Paris.
"You cannot every year change the entire sports schedule worldwide of all the major federations," Bach said. "You cannot have the athletes being in uncertainty.
"You cannot have so much overlapping with a future Olympic Games, so I have some understanding for this approach by our Japanese partners."