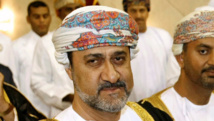 Haitham bin Tariq Al Said
declared the new sultan.
A three-day national mourning was declared for Qaboos, whose death was confirmed by the royal court in an obituary carried by state media early Saturday.
A funeral was held for Qaboos and he was laid to rest in the cemetery of the ruling family in Muscat after funeral prayers were observed. The funeral was attended Sultan Haitham and Omani officials.
The cause of Qaboos' death was not specified, but there had been speculation concerning his health after he made a short trip to Belgium for medical reasons last month.
Qaboos left no children behind to take his place and had not publicly appointed a successor.
"It is with hearts filled with faith in Allah and his Providence, and with great sorrow and deep sadness — yet with complete satisfaction and absolute submission to the will of the Almighty Allah, that the Diwan of Royal Court mourns His Majesty Sultan Qaboos bin Said," the royal court said in the statement.
Following his death, the country's Defence Council called upon "the Royal Family Council to convene in order to determine who shall assume power."
The council met and opened the will of the late sultan on Saturday morning and read it out in the presence of members of the royal family.
"The letter declared that Haitham bin Tariq Al Said, Qaboos' cousin, is the new Omani sultan," state-run news agency ONA reported. A short time later the government announced on Twitter that he was sworn in as the new sultan.
Haitham, 65, was serving as the country's culture and heritage minister.
Saudi Arabia's royals offered their "heartfelt condolences" to the royal family and the Omani people.
"With the deepest sorrow King Salman and Crown Prince Mohammed bin Salman received the news of Sultan Qaboos," according to a royal court statement.
Qaboos ruled the Gulf state since deposing his father in a bloodless coup in 1970 and was credited with transforming Oman into a modern country and an influential regional player.
The royal court announced "a state of mourning and the halt of official work in the public and private sectors for three days and the flying of flags at half-mast over the forthcoming 40 days."
Under Qaboos, Oman, a country of around 4.5 million people, remained unaffected by regional turbulence. Muscat has instead been a mediator in neighbouring Yemen between the Saudi-backed government and the Iran-backed Houthi rebels.
In foreign policy, Sultan Qaboos enjoyed the reputation of being a moderate, and was able to cultivate good relations both with the sultanate's Sunni neighbours in the Gulf as well as with their rival Shiite Iran. As a result, it was the negotiations that took place in Oman that laid the groundwork for the international nuclear accord with Iran.