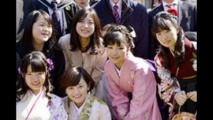 Valentine's Day in male-dominated Japan is a time for women to give gifts to men. A month later, these men were returning the favours by spending 3,000 yen (27 dollars) or more on chocolate at the Jean-Paul Hevin shop at Mitsukoshi Department store in the Ginza district.
White Day is far less popular than Valentine's Day. In a rapidly changing Japan, however, more men have joined the relatively recent tradition of buying women – a wife, a partner or female colleague - chocolate, cookies, lingerie or even jewellery.
"I have to do it. If I did not, they would get mad," one office worker told dpa, referring to his female colleagues.
Confectionery company Ishimuramanseido in the south-western city of Fukuoka launched "Marshmallow Day" on March 14, 1978 in a bid to get its product bought by men for women. The company later started to call it White Day.
It gathered momentum on the same date in 1980, with the country's candy industry launching a "White Day" campaign for men to give candy to women.