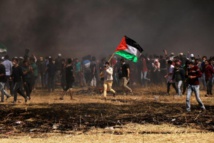 Two rockets were fired from the Palestinian territory early Wednesday. Israel retaliated by launching 20 strikes at "terror targets" as well as a separate attack on a group of Palestinians attempting to fire a rocket, the military said.
Israeli Defence Minister Avigdor Lieberman announced the closure of two key crossings in the Gaza Strip on Wednesday in response to the rocket fire that hit the home.
Gaza's rulers, the militant Hamas group, and the Islamic Jihad, another major militant faction, denied responsibility. They said the rocket fire was an attempt to "sabatoge Egyptian efforts to reach a truce agreement with Israel in the Gaza Strip."
However, Israel holds Hamas responsible for the attack.
"It is clear that the only two organizations that have these type of rockets are Hamas and the Palestinian Islamic Jihad," army spokesman Jonathan Conricus told reporters.
The flare-up comes as Egyptian-brokered cease-fire talks appear to have faltered and Lieberman has called for a harsh retaliation against Hamas.
An Egyptian security delegation arrived in Gaza on Tuesday in an attempt to mediate calm between the sides.
Hamas is demanding a lifting of an over decade-long Israeli and Egyptian blockade on the Gaza Strip.
The Palestinian rocket reached unusually far striking a home in the southern Israeli town of Beersheba, a major population centre around 35 kilometres from the coastal enclave.