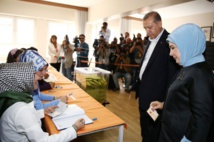 Ekrem Imamoglu from the opposition Republican People's Party (CHP) was leading in Istanbul with 48.79 per cent of votes, versus 48.51 per cent for Binali Yildirim, the candidate of the ruling Justice and Development Party (AKP), according to state news agency Anadolu.
Imamoglu's victory will end 25 years of Islamic conservative rule in Turkey's economic powerhouse, unofficial results show.
"Winning Istanbul is winning the hearts of 16 million in Istanbul. My only goal right now is to serve well. I promise a different political language," Imamoglu said in televised remarks in Istanbul on Monday.
Yildirim - who quickly declared himself the victor late Sunday - conceded on Monday that his rival was in the lead with 25,000 votes, with 99 per cent of ballots counted.
However, he said the party will contest nearly 320,000 invalid votes.
"The people of Istanbul have spoken. We know how to congratulate (our rival), but counting is still under way," Yildirim told reporters in Istanbul.
The AKP lost in Ankara, also held by Islamic conservatives since 1994.
The party remained defiant, saying it will contest the Ankara results, alleging invalid votes and fraud, according to AKP Secretary General Fatih Sahin.
"We have many results that do not reflect the reality. We have very striking evidence to this end and will present it to district election councils," Sahin said in the capital.
The AKP has until 3 pm (1200 GMT) on Tuesday to file its objections, he said.
The CHP's mayoral candidate for Ankara, Mansur Yavas, had 50.9 per cent of votes, versus 47.1 per cent for AKP candidate Mehmet Ozhaseki - with 99 per cent of ballots counted, according to Anadolu.
Erdogan, who wasn't on the ballot, claimed overall victory for his Islamic-conservative AKP in Sunday's fiercely contested polls.
But preliminary results from Anadolu showed setbacks for the AKP in industrial centres such as the south-eastern city of Adana and the Mediterranean tourism hub of Antalya amidst an economic recession.
Analysts see the elections as a referendum on Erdogan's policies since parliamentary and presidential polls in June, when he promised a "new Turkey," as he took over as the country's first executive president with vastly expanded powers.
The elections are an opportunity for authorities to "continue normalization" in Kurdish-populated areas and restore full local democracy, observers from the Council of Europe's Congress of Regional and Local Authorities said on Monday.
Turkish authorities should ensure "a political environment where there is genuine freedom of expression," chief observer Andrew Dawson said.
Since 2016, the government has replaced dozens of mayors from the pro-Kurdish Peoples' Democratic Party (HDP) with trustees. It claims the mayors had links to the outlawed Kurdistan Workers' Party (PKK).
In its bastion of Diyarbakir alone, the HDP was assured victory with 62.8 per cent of votes from the 99 per cent of ballots counted.