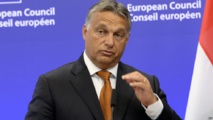 In an interview with German tabloid Bild ahead of a visit to Berlin on Wednesday, Orban said he would be open to talks about a bilateral deal to take back migrants trying to enter Germany if Merkel managed to make a similar deal with Vienna.
"The order has to be negotiations between Germany and Austria, then negotiations between Austria and Hungary," Orban told Bild. "Only then, if there is clarity on the German position, can there be negotiations between Hungary and Germany."
Merkel struck a deal under duress from her hardline interior minister that would see closed migrant holding centres set up along the country's southern border. It still requires approval from the centre-left partner in Merkel's government, the Social Democrats.
The centres are meant to act as a deterrent to migrants travelling through Europe. Austria has expressed concern that the measures could create a bottleneck of migrants in its territory.
Orban will be welcomed in Berlin by Bundestag President Wolfgang Schaeuble on Wednesday, and will hold talks with Merkel on Thursday.