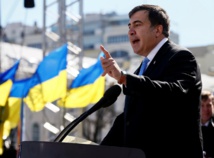 Saakashvili
In recent months, Saakashvili has led a protest movement across Ukraine against that country's leadership. That effort became harder after he was deported to Poland on Monday after being detained by camouflaged men in a Georgian restaurant in central Kiev.
He promptly vowed to return to Ukraine, but is now in the Netherlands. Saakashvili, who is stateless after his Georgian and Ukrainian citizenships were revoked, has a Dutch wife and two sons with her.
He has applied to be allowed to stay in the Netherlands under family unification legislation, his lawyer, Oscar Hammerstein, said in comments carried by Dutch radio.
Saakashvili, whose Ukrainian citizenship was removed last year while on vacation, re-entered the country by walking across the border from Poland last year during a brawl between his supporters and Ukrainian border officials.
Saakashvili has gained popularity in Ukraine as an outspoken opponent of Poroshenko, who is expected to run for re-election next year.
A federal lawmaker from the Odessa region, Oleksiy Honcharenko, posted a photo on his Facebook page on Wednesday showing a smiling Saakashvili arriving in Amsterdam.
The European Union expressed concern over Saakashvili's rights.
"We continue to follow developments regarding Mr Saakashvili. We expect the rule of law as well as the rights of Mr Saakashvili to be upheld," EU foreign policy spokeswoman Maja Kocijancic said in an emailed statement.