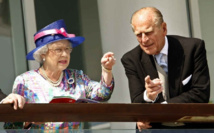 The 96-year-old prince, also known as the Duke of Edinburgh, hosted the closing of the Royal Marines' 1664 Global Challenge charity event in his capacity as ceremonial head of the force.

Wearing a bowler hat and raincoat to protect himself from heavy rain, he watched the marines parade on the forecourt of Buckingham Palace, the main royal residence in London.
"As he carries out his final public engagement, I thank the Duke of Edinburgh for a remarkable lifetime of service," May said in a statement.
"I hope the duke, after 22,219 solo engagements since 1952, can now enjoy a well-earned retirement!" she said.
Prince Philip has also made 637 solo visits overseas, written 14 books and given 5,496 speeches since 1952, the royal family said on Twitter.
It said he "may still attend events alongside the queen from time to time."
The 1664 Global Challenge involved soldiers taking part in 100 challenges over 100 days to support injured marines, aiming to raise 100,000 pounds (133,000 dollars).
Prince Philip has carried out official royal duties alone or with the queen since she ascended to the throne following the death of her father, King George VI, in 1952.
When Buckingham Palace announced earlier this year that he had decided not to carry out any more public duties after this month, May offered the nation's "deepest gratitude and good wishes" to him.
Opposition Labour leader Jeremy Corbyn also praised his "clear sense of public duty."
Prince Philip will remain patron of some 780 organizations, while Queen Elizabeth II, 91, will continue to carry out "a full programme of official engagements" with the support of other members of the royal family, the palace said.
The royal couple are scheduled to celebrate their 70th wedding anniversary in November.
They have four children and eight grandchildren. Their eldest son, Prince Charles, is the heir to the throne.