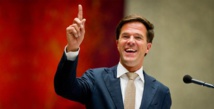 Mark Rutte
"The VVD makes the best coffee," Rutte sang out, as he gathered people around a food truck handing out hot drinks to talk politics and promote his Liberal party's policies.
After six years in power at the head of two coalition governments, Rutte is fending off a biting challenge from his far-right rival Geert Wilders in the March 15 elections.
His party is running neck-and-neck with Wilders's Freedom Party (PVV) in the race for control of the 150-seat lower house of parliament.
Amid the rise of populist and far-right parties in Europe, the Dutch polls are being seen as a litmus test ahead of other elections this year, notably in France and Germany.
Dressed casually in jeans and a blue weatherproof jacket against the penetrating cold drizzle, Rutte patiently answered questions from curious shoppers in the tiny central town of Wormerveer and posed for selfies.
Some 28 parties are running in the elections. And amid the country's fractured political landscape, all eyes are on who will emerge in the pole position to form the next coalition -- which analysts predict could include up to five parties.

- 'Very unstable times' -

"We are living in very unstable and insecure times. My main task as prime minister is to keep this country safe and stable," Rutte told AFP, among a small knot of journalists.
"That means that we have to reorganise the European Union, make NATO work better for all of us, invest in our defence."
But amid a polarising debate over immigration, he also argued the country's 17 million people wanted to see The Netherlands defend its values.
"For example on immigration, for refugees we will always have a warm welcome, but not too many please. We have to keep the numbers limited," he said.
There would always be a place for those fleeing war "but we have to be very clear about what kind of country we are."
Wilders has vowed to close Dutch borders to Muslim refugees, to ban sales of the Koran and to close mosques -- a message which has found favour with growing number of voters on the back of Europe's worst refugee crisis since World War II.
In recent weeks Rutte has toughened his tone on immigrants, urging all citizens to adapt to Dutch values or leave.
The latest aggregate polling survey showed Wilders' Freedom Party would garner 24 to 28 seats with Rutte's VVD set to capture between 23 to 27 seats.
jkb/hmw