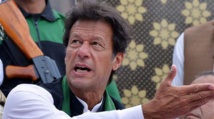 The three-judge bench is scheduled to announce the decision in the capital Islamabad Friday afternoon, a court official said.
A Sharif's party leader filed the petition seeking the disqualification of Khan in November last year.
The Sharif's party accused Khan of creating an offshore company in London and transferring a huge amount of money to Pakistan from the proceeds of cricket he played in 1980s in the Britian and Australia.
The petition said Khan did not disclose his offshore company and money to the election authorities, a legal requirement for all MPs.
Khan would not be eligible to become the country's prime minister in elections scheduled for next year if the court were to disqualify him.
Millions of people voted for Khan's Pakistan Tehreek-e-Insaf party in the last elections held in 2013 and his support has been growing since.
He is one of the frontrunners to become Pakistan's next leader after the ouster of three-time premier Sharif in July and his disqualification to seek another term in future.
Khan, who used the money to build a palatial villa on hundreds of acres atop a mountain in Islamabad, denied any illegality. He said the funds were a gift from his British former wife.
Notepad