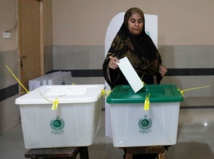 Yaqoob said there was no conspiracy behind the delay and that the commission would address political parties' complaints.
Hours after polling ended on Wednesday, major political groups slammed the election as a "sham" even before official results had been announced. The party of jailed former prime minister Nawaz Sharif accused the military of manipulation.
Tehreek-e-Insaf (PTI), the party of former sports star Imran Khan - which allegedly has the backing of the army - had captured the largest vote share, while Sharif's party came in second, according to partial, unofficial results carried by local media.
Pakistanis turned out in droves to vote in the country's hotly contested elections, defying an Islamic State suicide attack that killed 31 people.
There was no official turnout figure, but local media said that large numbers of people had cast their ballots.
-------------
Islamabad - By Qamar Zaman and Zia Khan, – Voting in national elections in Pakistan was under way on Wednesday as hundreds of thousands of troops and police guarded polling stations following threats by Islamist militants to target the process.
Polling booths across the country opened at 8 am and will close at 6 pm (1300 GMT), said electoral commission spokesman Altaf Khan.
Live television broadcasts showed long queues of voters at polling stations in cities across the country.
More than 100 million people are registered to vote in the Muslim-majority country that has alternated between democracy and military rule, making it one of the largest democratic exercises in the world.
More than 11,000 candidates are running in the national legislature and its provincial counterparts, according to election authorities.
Authorities have ordered the deployment of more than 800,000 troops and police to guard the more than 85,000 polling stations.
Bombings by Islamist militants killed around 180 people in the run-up to the polls.
The Islamic State terrorist group and Taliban militants have threatened to bomb the process saying they consider democracy to be a system followed by "Western infidels."
Despite the risks, political leaders urged people to come out and vote.
"Don't waste your time. Come out and vote," said Shehbaz Sharif, head of the Pakistan Muslim League-Nawaz party, one of the frontrunners in the polls.
The party that was once led by jailed former prime minister Nawaz Sharif had expressed concern about the army's alleged plans to manipulate the process, but was still taking part.
There are reports the army, which ruled the country for half of its history, is supporting the party of ex-sports star Imran Khan, who heads the PTI party, an allegation both sides have denied.