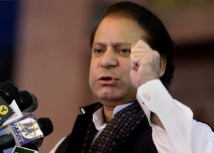 Tens of thousands of workers from cricket-star-turned-politician Imran Khan's Pakistan Tehreek-e-Insaf (PTI) party attended a "thanksgiving rally to celebrate Pakistan's victory against corruption."
"I thank and pay tribute to those five judges of the Supreme Court," said Khan. "The judges have given us hope that those in power can also be held accountable in this country," he added.
"My dream is to make this country and its citizens prosperous, and one day we will materialize it," Khan said. He also briefly discussed his party's manifesto and promised to strengthen institutions and make the country a welfare state in line with the teachings of Islam.
Women chanted slogans and danced to party anthems, and a brief documentary about Khan's life and achievements featuring well-wishes from Bollywood superstars Dilip Kumar and Amir Khan was played.
The ruling Pakistan Muslim League-Nawaz (PML-N) party has announced Sharif's younger brother, Shahbaz, as his successor, but the opposition vowed to get him disqualified as well on corruption charges.
"We will go for disqualification of Shahbaz Sharif," said Sheikh Rashid Ahmed, who was once part of the PML-N.
Opposition politicians, including Khan, sought Sharif's ouster after it was revealed in the Panama Papers leak last year that the premier's children bought properties in London through offshore companies.
The Supreme Court disqualified Sharif on Friday.
Sharif was removed from office twice before, in the 1990s, before completing a full five-year term.
He was prime minister from 1990-1993, and again from 1997 until October 1999. His second term was terminated when he was ousted in a coup by his army chief, Pervez Musharraf.
Meanwhile, President Mamnoon Hussain has called a meeting of the National Assembly to formally pick a prime minister on Tuesday.
The ruling party had said that former petroleum minister Shahid Khaqan Abbasi, who had also served as chairman of national carrier Pakistan International Airlines, would serve as interim prime minister.
Abbasi should eventually be replaced by Shahbaz Sharif, who's currently the chief minister of Punjab province. He will contest elections from the seat vacated by his brother, and the process may take at least 45 days.
Notepad