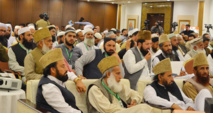 A meeting of the FATF countries is scheduled Sunday through Friday in Paris, where the motion to place Pakistan on the watch list would be put forward. It is not clear on which exact day the topic will come up.
Being added to the list would make it difficult for Pakistan, its citizens and companies to make financial transactions, a situation that can hurt the country's economy, which is still recovering from years of violence and energy crisis.
The US move is apparently aimed at forcing Pakistan to take what American officials often describe as decisive action against Islamist militants linked with the Afghan Taliban and those behind a deadly 2008 attacks in the Indian city of Mumbai.
Gunmen from Lashkar-e-Toiba (LeT), a group established by Pakistani cleric Hafiz Saeed, killed 166 people in Mumbai in three days of rampage. Six of the dead were American citizens.
Saeed carries 10-million-dollar US bounty on his head, but lives as a free man in Pakistan, addressing public rallies and running a huge network of Islamic seminaries and charities. He denies involvement in the attacks.
Pakistan authorities launched a drive to take over seminaries and clinics run by Jamaat-ud-Dawa (JuD), a charity allegedly operating as a front for LeT.
"Our facilities are being raided and workers are being arrested," Ahmed Nadeem, spokesman for JuD, told dpa.
Pakistani President Mamnoon Hussain issued an order on Sunday to put JuD and an affiliated charity, Falah-e-Insaniat Foundation, on a list of banned organizations.
The Interior Ministry on Tuesday night ordered police to begin the crackdown, an official said, seeking anonymity.
Deputy Finance Minister Rana Afzal said Pakistan would use diplomatic channels to convince the US and its European allies to withdraw the motion.
It wasn't clear if Pakistani authorities were also planning to take any action against the Haqqani network, a faction of the Afghan Taliban.
The relations between the US and Pakistan, two key allies in the global war on terrorism, have been deteriorating since President Donald Trump announced a new strategy for the region last year, accusing Islamabad of supporting militants.