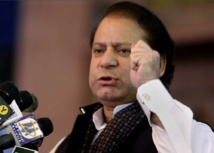 The five-judge bench announced the decision in the capital Islamabad amid tight security, court official Shahid Hussain said.
Sharif, 68, three-time former prime minister of Pakistan, was disqualified and removed from office last year on the basis of corruption allegations against his family.
The investigation into alleged misconduct was prompted by revelations from the leaked Panama Papers, which included information about world leaders improperly hiding income.
The disqualification was viewed with scepticism last year, with some alleging collusion between generals and judges to remove Sharif, who is still considered the most popular political leader in the country.
Sharif was disqualified under a controversial Islamic law which says a leader should be a righteous and pious person. It was introduced to the constitution by former military ruler Ziaul Haq in the 1980s.
Friday's decision is a major blow to Sharif's Pakistan Muslim League party in the run-up to parliamentary elections scheduled for August.
The party condemned the verdict, calling it a joke and a conspiracy.
"This is not what a person voted in by millions of people deserves," Information Minister Maryam Aurangzeb said.
Pakistan's political history has been marred by frequent coups, assassinations and the unceremonious ouster of leaders either by the military or the judiciary.
Political analysts said the decision would tighten military's control over the country.
"With a popular leader out of way, it seems the army will be in control," Fida Khan, a political analyst, said regarding Sharif, whose political career has been marked by pushback against the military's intervention in politics.
The allegations against Sharif date back to his previous stints in power in the 1990s. Critics accused Sharif and his family of laundering money from Pakistan and using it to buy properties in London.