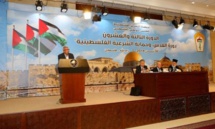 However, Abbas has ignored previous votes by the PCC, including in January 2018, calling for the suspension of relations with Israel.
The PLO Executive Committee, another decision-making body, will discuss implementing the decision in a session led by Abbas on Tuesday, said Saeb Erekat, a top PLO official.
Erekat added that the suspension of ties would be implemented gradually.
Israel established revelations with the PLO under the 1993 Oslo Accords, which paved the way for the creation of Abbas' West Bank-based Palestinian Authority government.
During his 10-year reign, Abbas has maintained security cooperation with Israel in the West Bank - seen as vital to stability in the area - despite widespread opposition from Palestinians.
Hamas, which rules the Gaza Strip - the other main Palestinian territory - does not recognize Israel and boycotted the PCC meeting due to a feud with Abbas.
Last year, the PLO Central Committee moved to end all security cooperation with Israel over a crisis surrounding the Temple Mount holy site, as it's known to Jews, or Dome of the Rock for Muslims. This decision was never followed through on.
It is unclear how the Palestinian authorities could economically decouple the Palestinian territories from Israel, given that Israel controls imports from and exports to those territories.
In making its decision, the PLO criticized Israel for not adhering to its duties as set out in the Oslo Accords, a peace plan dating to the 1990s that sought to establish an independent Palestinian state within five years.
"In view of Israel's continued denial of the signed agreements and the ensuing obligations, the Palestinian Central Council ... decides to end the commitments of the PLO and the Palestinian Authority towards its agreements with the occupying Power [Israel]," a statement read.
Israel occupied the eastern half of Jerusalem, the West Bank and the Gaza Strip in the 1967 Six-Day War. Palestinians want the territories as part of their future state.