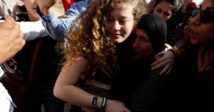 "Our resistance will continue, particularly our resistance for equal rights," says Tamimi in her town of Nabi Saleh.
"The prison was difficult and humiliating, but we were able to turn it into a classroom," says Tamimi, 17, thanking those who stood by her during her eights months in prison.
"I want to say that I hope that the campaigns that were for me will continue for all the children that are in prison," she says
Bassem Tamimi, the father of Palestinian protest icon Ahed Tamimi, says she should slap Israeli soldiers if they ever return to her West Bank hometown. Ahed is returning to her hometown, Nabi Saleh, after spending eight months in jail for a video showing her hitting Israeli soldiers.
"The Israelis want to stop all our happiness," said Bassem ahead of a press conference by his daughter, adding: "We will continue."